CALMING YET COMMUNITY SPA ENVIRONMENT
Our new telephone number is 209.989.3598.
Located in the Main Lodge below the restaurant is the Yosemite Health Spa.  It's valley view garden deck with tables and lounges is great for summer tea and winter apres sauna strolls. The stainless steel oxygenated spring water UV and H2O2 hot tub that opens upon the deck is the best viewpoint. Plan for yoga, massage therapy, aromatic herbal baths and the hot rock sauna to make it a relaxing and lovely visit 3pm to 10pm daily.  Accessible parking, ramps, bathroom and assisted lift are available and the hot tub edge is chair transfer height.
SPA DAY PASS
---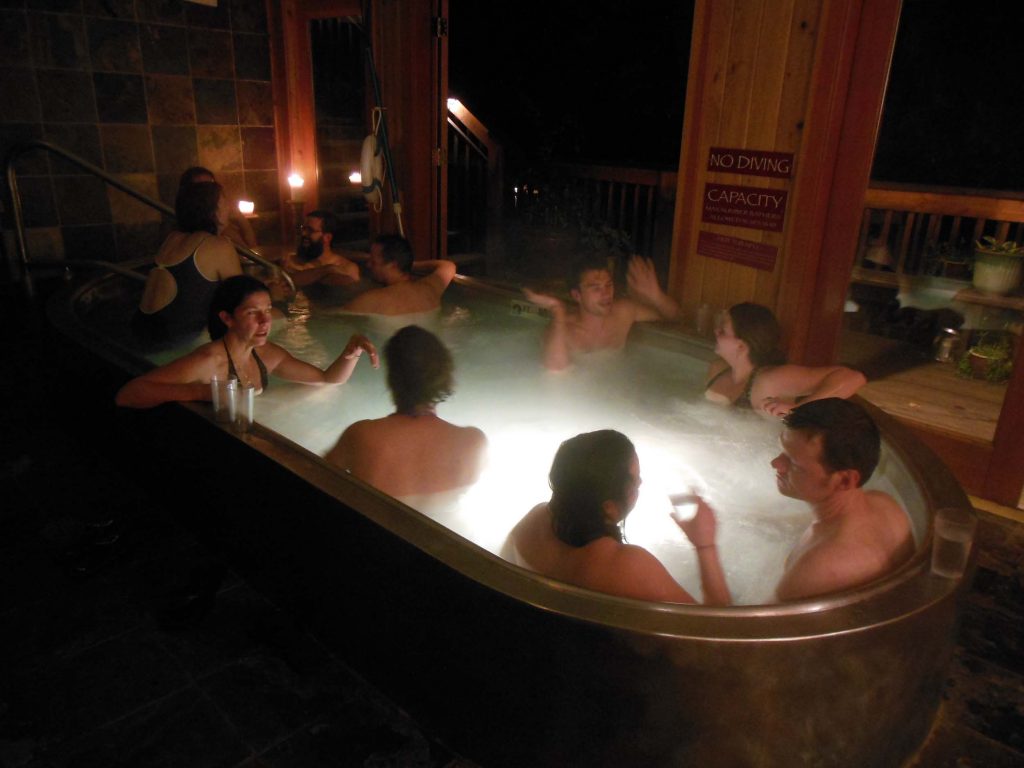 Our hydrogen peroxide and UV light hot tub is cleansing and oxygenating, like having a third lung. Large capacity and stainless steel, it looks out into the gorge, the mountains and forest. Whether sunny or snowing it is a fantastic part of your day.
The cedar hot rocks sauna has a eucalyptus or lavender infused water bucket to ease deep calm breathing to help you perspire and cleans your body. Take a rain shower just outside and stroll the deck to cool between sessions.
The yoga studio is there for your own yoga or stretching routines with our mats, blocks, ball, cushions and blankets.
Use the body shower panels in the changing rooms to shower before and after with quality body cleaning products to feel great upon departure. You can also use the yoga room for you own session when classes are not in session. Extra suits upon request, too with your large towel.
$20 Day Pass
MASSAGE THERAPY & TREATMENTS
---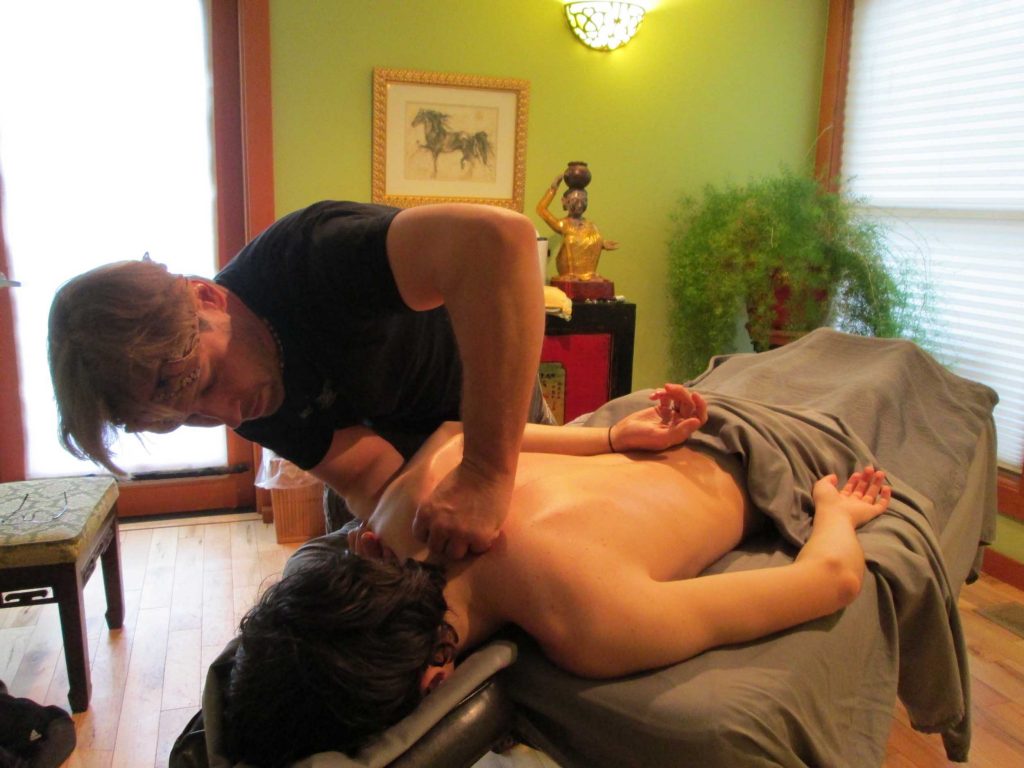 We DO have new Massage Therapists Wednesday through Sunday 1pm-9pm you can book on this website!  What every visit should include is a relaxing massage or rub to allow your anxieties and busy life melt away.  Nice Japanese and Tibetan inspired therapy rooms with candles, music and robes.  Book on our spa booking tab at the bottom of this page.
Swedish Massage
1 hour $115
A full-body massage ideal for individuals looking to relax.
Deep Tissue Massage
A full body massage working on stress knots, muscle overuse and exhaustion.  If you have ignored your body's warnings for too long, this is the massage treatment.
1 hour $130, 1.5 hours $190
Hiker's Massage
1 hour – $109
A lower body focus massage ideal for those coming back from a long days hike, who have low back pain, those that work at desk jobs or sit/stand for long periods of time or have static nerve pain.
Climber's Massage
1 hour – $109
An upper body focus ideal for those coming back from climbing, doing repetitive upper body movements, side sleepers or carrying little ones on your hip.
Esalen Massage
1 hour – $130
An Esalen Massage is an inward journey rather than a therapeutic treatment developed and taught at the Esalen Institute. Through long strokes, a slow pace, and pauses, you are invited to return to your natural state of balance and alignment. Transformation occurs not through deep-tissue work but rather through an active participation between giver and receiver.
SOAKING BATHS & YOGA CLASS
---
BALANCED ROCK SPONSORED SUNDAY YOGA CLASSES
6pm to 7:15pm $15-20
AROMATIC SOAKING BATHS
These bath are in a beautiful tub room with two stainless steel soaking tubs, music and essential oil aromatics to fill your lungs and body. This ayurvedic therapy breaks through the blood/brain barrier to offer specific healing properties such as sickness, fatigue or mood.
3pm – 10pm
1 hour $40.00, 2 person $70.00
Book on the SquareUp button above for 10am – 10pm by reservations online and  the spa attendants  you will confirm the appointment after 2:30pm and the reception responds in the morning.  Please call at extension 1 Reception or extension 3 Spa at 1.866.826.7108 if you have questions.
Muscle Rejuvenation Soak
Soothing mineral salts with eucalyptus, sweet orange, and lavender essential oils for fatigued or injured muscles.
Energizing Wellness Soak
Mineral salt blend, with uplifting tangerine, lavender and chamomile essential oils for wellness and fatigue.
Skin Renewal Soak
Custom, locally crafted herbal formula created to cleanse and moisturize the skin, detoxify the body and ease stressed muscles. Includes lavender, lemon and clary sage essential oils steeped linen herbal bag for exfoliation.