CALMING YET COMMUNITY SPA ENVIRONMENT
Covid-19 update:  We have upgraded the hygienic guideline for the spa according to the guidelines created.  We have closed the spa entirely through March at this time.  Located in the Main Lodge below the restaurant is the snug, but outward looking Yosemite Health Spa. It's valley view garden deck with tables and lounges is great for summer tea and winter apre's-sauna strolls. The stainless steel oxygenated spring water hot tub that opens upon the deck is the best viewpoint. Plan for yoga, massage therapy, aromatic herbal baths and the hot rock sauna to make it a relaxing and lovely visit.  Accessible parking, ramps, bathroom and assisted lift are available and the hot tub edge is transfer height.
AMENITIES
---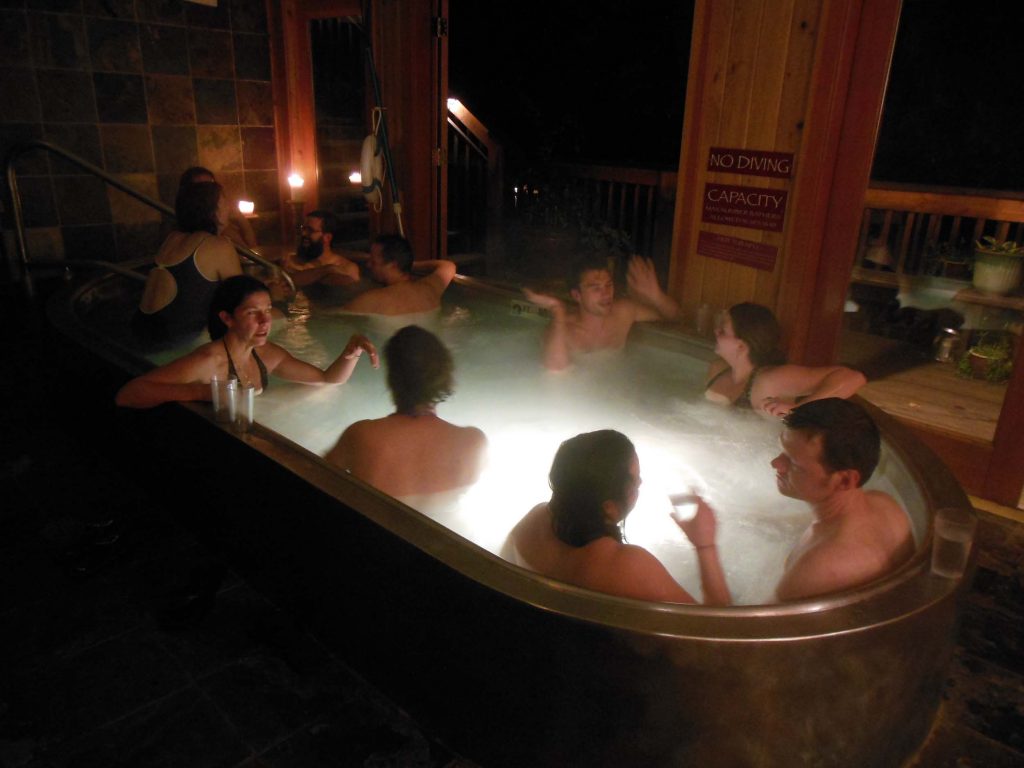 10a-10pm
$15.00 Day Pass
Our hydrogen peroxide and UV light hot tub is cleansing and oxygenating, like having a third lung. Large capacity and stainless steel, it looks out into the gorge, the mountains and forest. Whether sunny or snowing it is a fantastic part of your day.
The cedar hot rocks sauna has a eucalyptus or lavender infused water bucket to ease deep calm breathing to help you perspire and cleans your body. Take a rain shower just outside and stroll the deck to cool between sessions.
The yoga studio is there for your own yoga or stretching routines with our mats, blocks, ball, cushions and blankets.
Use the body shower panels in the changing rooms to shower before and after with quality body cleaning products to feel great upon departure. You can also use the yoga room for you own program when classes are not in session. Extra suits upon request, too with your large towel.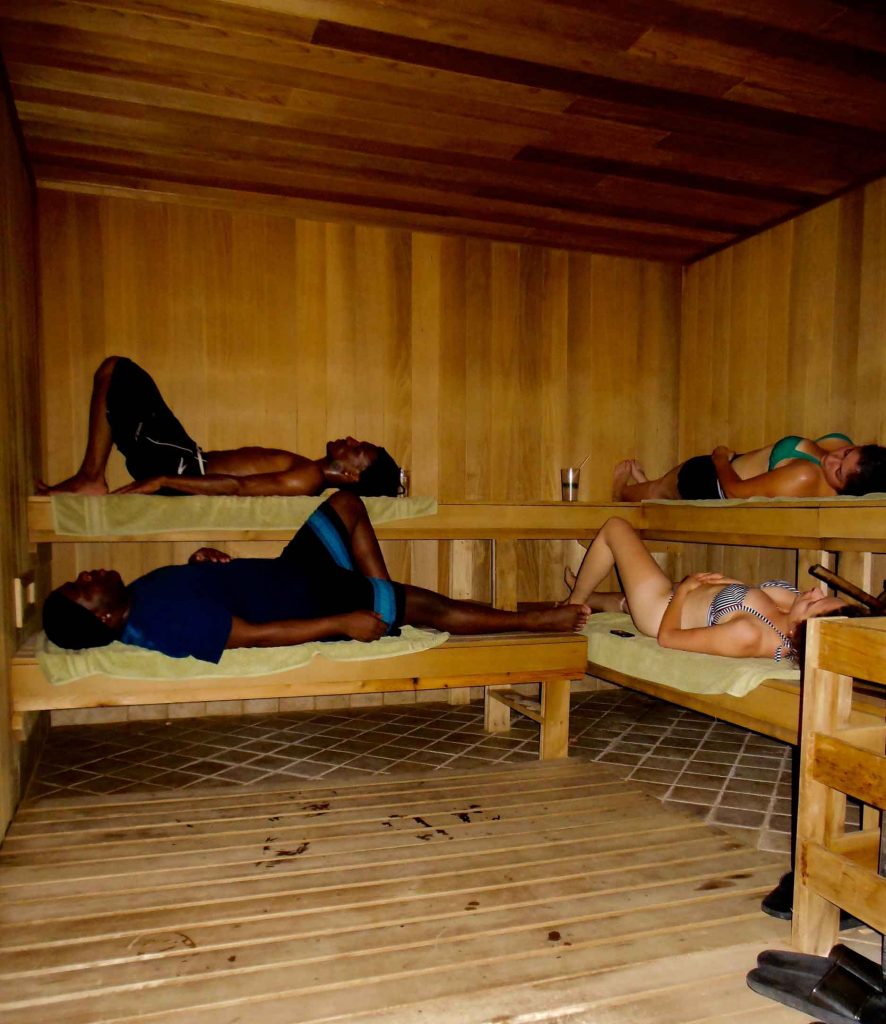 MASSAGE THERAPY & TREATMENTS
---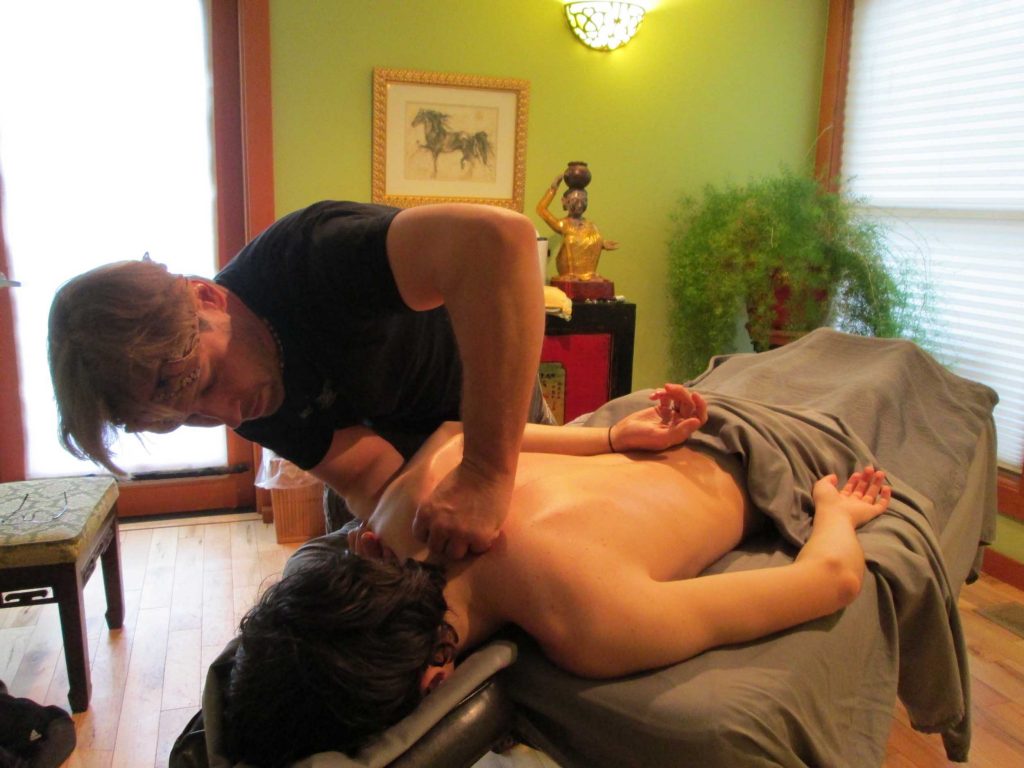 What every visit should include is a relaxing massage or rub to allow your anxieties and busy life melt away. All treatments include a day pass.
Book on the SquareUp button above for 10am – 10pm by reservations online and the Therapist will confirm directly.  We have spa attendants you can book with after 2:30pm at extension 4 or contact the reception in the morning at extension 1 at 1866.826.7108 if you have questions.
Nice Japanese and Tibetan inspired therapy rooms with candles, music and robes to enjoy a Swedish or deep tissue massage from one our our certified therapists. Each has a specialty but they are all wonderful and calming.  A day pass in inclusive so relax in the sauna or hot tub to yourself pliant beforehand.   All week we have a therapist near at hand but we always recommend booking in advance.
Hiker's Massage Treatment
1 hr $95
A treatment geared towards those spending a lot of time hiking or with jobs which entail heavy lifting. This massage focuses on addressing the lower back, glutes, and legs so that individuals can leave their session feeling rejuvenated and ready for their next adventure!
Classic Swedish Massage
1 hr $95
1 hr $85 90 min $130
Relaxing light to medium pressure massage helps relieve stress and anxiety as well as soothes tired aching muscles and joints.
Tranquility Massage Treatment
1 hr $95
If you are looking for a relaxing and meditative experience, this is the massage for you. A light and soothing massage which incorporates essential oils and warm Himalayan salt stones to help calm the mind and the body.
Deep Tissue
1 hr $95, 90 min $140
A deeper pressure Massage aimed at injury recovery and relieving chronic pain. Combines deep pressure, stretching and the use of our anti inflammatory oil blend.
Rock Climber's Massage Treatment
1.5 hrs $125
A combination of Neuromuscular Therapy and deep tissue massage where the therapist focuses most of their attention on specifically working the upper back, arms and neck. This massage is also a great massage for those who work desk jobs or drive often.
Yogish Massage
1.5 hrs $115
Enjoy a 30 minute private yoga session with a focus on alignment, exploration of movement, breath and relaxation before your 1 hr classic Swedish massage.
Private Yoga Instruction Up to 2 persons
1 hr $40, $10 additional persons
Tailored styles and poses in our yoga studio after a discussion with you. $10 each additional person.
SOAKING BATHS
---
AROMATIC SOAKING BATHS
These bath are in a beautiful tub room with two stainless steel soaking tubs, music and essential oil aromatics to fill your lungs and body. This ayurvedic therapy breaks through the blood/brain barrier to offer specific healing properties such as sickness, fatigue or mood.
10am – 10pm
1 hour $35.00, 2 person $50.00
Book on the SquareUp button above for 10am – 10pm by reservations online and  the spa attendants  you will confirm the appointment after 2:30pm and the reception responds in the morning.  Please call at extension 1 Reception or extension 3 Spa at 1.866.826.7108 if you have questions.
Muscle Rejuvenation Soak
Soothing mineral salts with eucalyptus, sweet orange, and lavender essential oils for fatigued or injured muscles.
Energizing Wellness Soak
Mineral salt blend, with uplifting tangerine, lavender and chamomile essential oils for wellness and fatigue.
Skin Renewal Soak
Custom, locally crafted herbal formula created to cleanse and moisturize the skin, detoxify the body and ease stressed muscles. Includes lavender, lemon and clary sage essential oils steeped linen herbal bag for exfoliation.