LODGING IN CABINS TO SUIT ANY BUDGET
Covid-19 Update:  We have update our cleaning standards to new hygienic requirements in rooms. Any common facilities have sanitizer outside and disinfectant inside for your use.   We sanitize public use areas multiple times daily.   We do not clean rooms during your stay as required under Covid-19.  All our rooms have separate HVAC, cooling and heating systems from other rooms.  We clean public facilities multiple times daily.  Masks are required in the public shared areas.  Do look at the Private Family Dorm Rooms and Cabins as an alternative the youth hostel dormitories for 5 or 7 guests each.

Radiating out from the roundabout in front of the lodge we have restored old sugar pine cabins into the family dorm rooms over twenty years ago and have added new stilted hillside cabins with private rooms, family cabins, tent cabins and vacation homes. In different rooms you will discover different old, refinished and new furnishings and decor each time you visit. We are having a great time with these rooms and sure hope you do as well.  Vacation rentals do not have housekeeping services as the rest do and, of course, all accommodations have linens. 
Parking can be hundreds of feet from your cabin on this hillside property.  
You will find accessible rooms online with van accessible parking, but with all rooms, on this hillside there are three levels of parking areas that may not be on the same level of the van accessible parking at the spa, reception, restaurant and meeting room. The spa, reception and restaurant are all ramp access.
Hotel Style Private Rooms With Baths
$85.00 to $195.00 seasonal
The best rooms with love and character, these rooms come in a variety of bed types for couples to families. These duplex cabins at 300 sf each all have forest views and decks with tables and chairs. Not so rustic with fine linens, fine bath products, towels, showers, heat, coolers and wi-fi. The rustic reflects in the lack of TV's or phones and remote parking.  An accessible room with two queens at 360 sf and and roll in shower accessible restroom are near a van accessible with ramp to room.  This is not the accessible same hillside level of the Main Lodge amenities.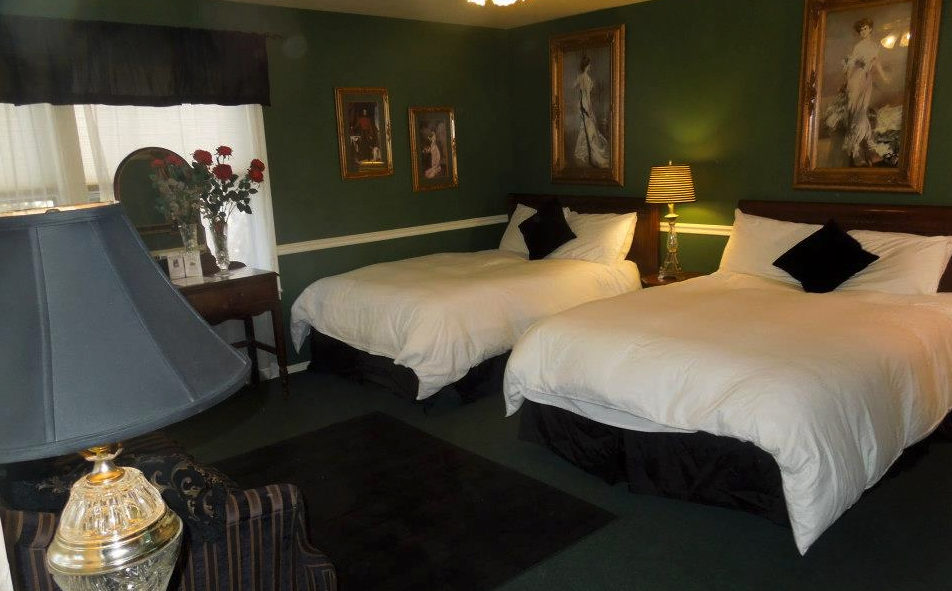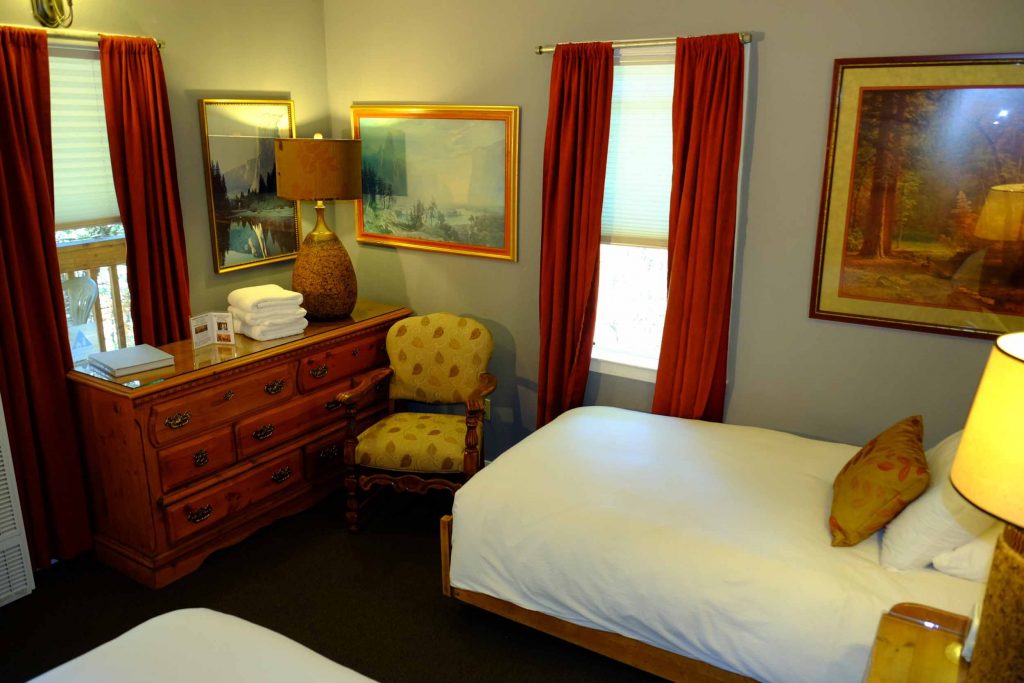 Private Family Cabins and Private Rooms Shared Bath
$65.00 to $235.00 seasonal
Private Family Cabins are duplexes with three doors on the deck.  Two private rooms and one bath that can also sold separately as Private Rooms with Shared Baths. A bit smaller and than the private rooms at 190 sf each room, but with high ceilings. One room is always a queen and a bunk with two twins at 210 sf, and the other side is a queen or two twins beds. Still very nice these rooms have amenities and decks as well.   Two accessible rooms, one with a full size bed at 218 sf and the other with a queen and a bunk at 228sf share a roll in shower with accessible ramp to a van accessible parking spot.  This is not the accessible same hillside level of the Main Lodge amenities.
Tent Cabins and Campsites With Campground Baths
$20.00 to $95.00 seasonal
Imagine a rough wood frame with a rubberized cotton canvas shell on it and you have a historic Yosemite style tent cabin. They have electricity for lighting and fans, screen doors, linens, decks and log furniture or antiques. The glamping style heated insulated tent cabins have additional interior walls, heaters and decks. The new tiled restroom complex has a sink bank, a laundromat, private showers and toilets. Some tent cabins are closer than others to bathrooms.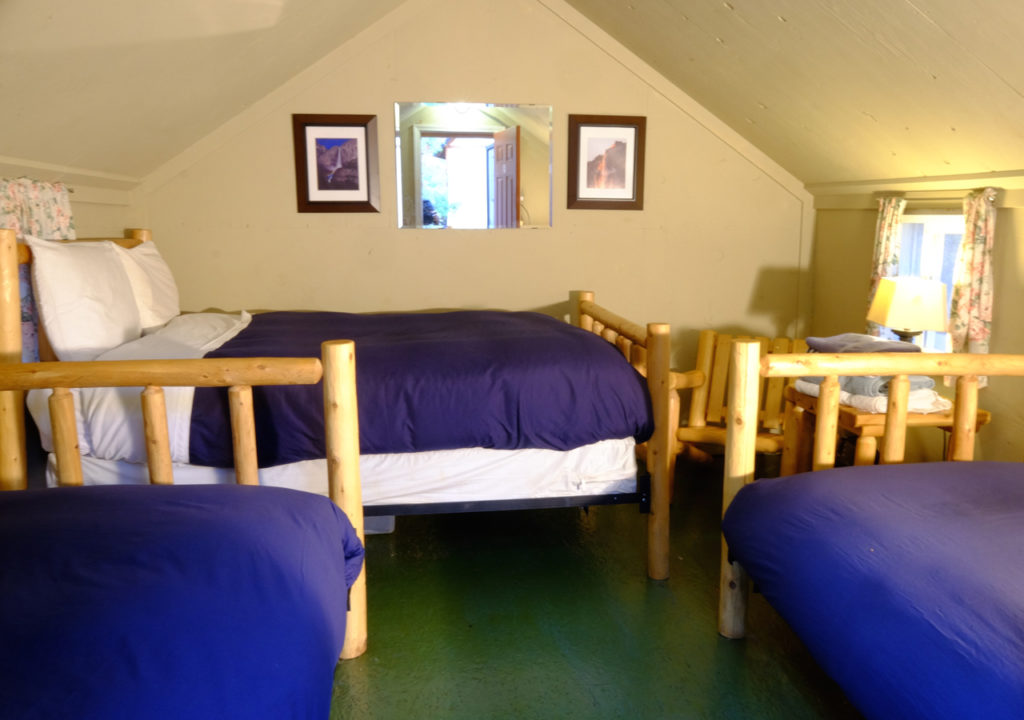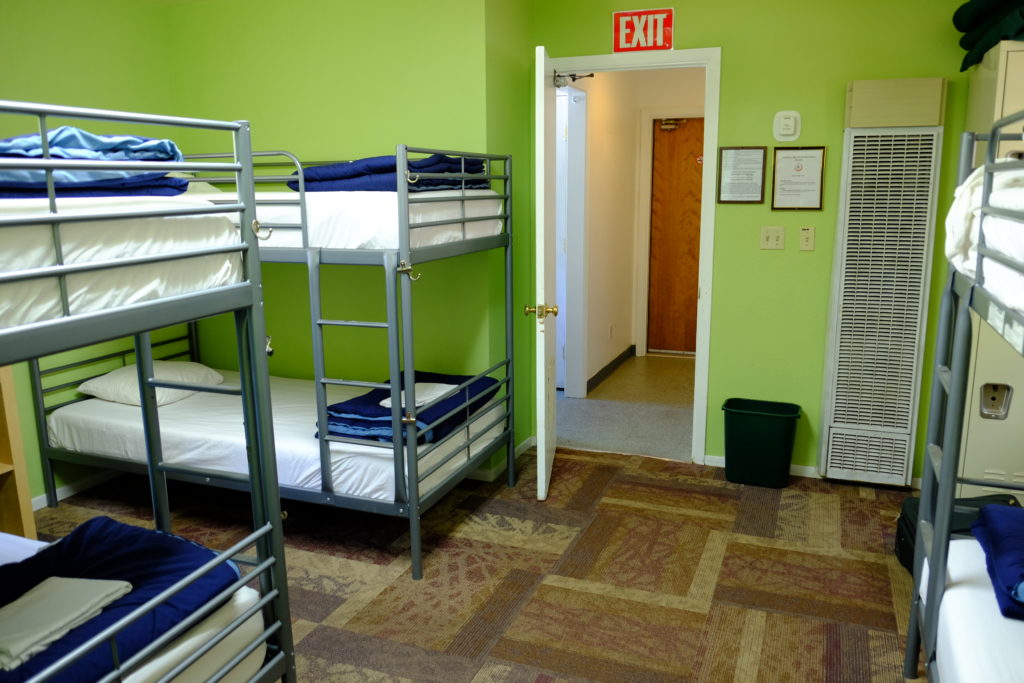 Youth Hostel Dormitories and Private Family Dorms With Baths
$29.00 to $95.00 seasonal
Covid-19 notice: Nearly all our hostel dormitory shared facilities are closed.  Look at the Private Family Dorm accommodations as an alternative.
These old cabins look new inside and out but have been here for about 80 years. New white steel beds, lockers, shower amenities and linens are included. Very nice and very clean, these are usually two rooms sharing a two baths, two showers and a sink bank at 645 sf. Backpackers still set the tone at the Bug and we have a guest kitchen under reservations for those who bring some food of their own. Decks outside with tables and chairs, too.  An accessible room three bunk and two accessible lower beds at 300 sf with a roll in shower accessible restroom are near a van accessible parking with a ramp.  This is not the accessible same hillside level of the Main Lodge amenities.
Look at our Private Family Dorm with Private Baths with ensuite baths or private baths down the hall.  Your rooms will have a couple of two twin bunk beds with a double size bottom bunk as one option always.
$135 to $325  seasonal 
We have the country Barn House Studio near the Bug for that less expensive loft apartment with all you need with a common room and a bedroom with a queen and a bunk and a small bathroom for four.  Our two full houses: the hippie Starlite House near the Bug with 2 bedrooms a large common area, two bathrooms with two queens, a bunk and a daybed in an enclosed porch for six.   The classic Buckskin Ranch House is a few miles away for friends and family use with three queen bedded bedrooms, two baths, a large deck, and a large commons area for six persons.
ATM machine for cash or credit cards accepted

Parking is free, however on this mountainside property the three lots will be away from your room up to 3oo meters.

Limited Campsites upon request only.

We recycle and compost.  We conserve water and energy.  With your help!

We strive for sustainable and regional foods.  Our grains are mostly organic.  We grow vegetables for the cafe every summer.

There's a shop at reception for gifts, hygiene products and travel items.

We have a newly renovated guest kitchen with three workstations and a dining area.

The spa offers day passes for the hot tub, rain showers, yoga room and hot rock sauna.  Massage therapy, treatments, specialty baths and personal yoga classes are available.

Our Cancellation Policy is 5 days for all accommodation except male, female and coed hostel dormitories at 2 days.  We do not precharge on regular reservations.  Much better and flexible than exceptionally high cancellation policies and precharging as most Yosemite area hotels have.
Heaters and air conditioning in all private rooms.  Upgrade in air conditioners will be complete this year.  Heated tent cabins will also have evaporative coolers this season.  Regular tent cabins have no heat or cool and a perfect for summer weather under this grove.

All facilities have been renovated, with signature recycled, new furniture, and soft goods.

Breakfast, lunch and dinner service at the June Bug Cafe with open face sandwiches and desserts between service times.

Housekeeping services for all accommodation daily except for vacation rentals houses.

Coin laundromat on property.

Beer and wine sold at the June Bug Cafe.

Free DSL wi-fi points broadcast everywhere and Verizon Wireless cell service.  It is not the fastest but it works well enough.

Mail drop & stamps at reception.

Trail sack lunches to go with premium sandwich makings wrapped separately, trial mix and fruit for your hikes.

Premium shower and handwashing  products in all accommodations shower and sinks.

Refrigerators in all hotel style private rooms with baths.  These rooms do not have coffeemakers, safes or telephones.

Accessible rooms, parking and public areas at each mountainside level.
Yosemite information and itinerary help at the Front Office.  Look at our news page and Facebook feed for the itinerary and articles as well.

Hiking trails, seasonal swimming hole and river nearby.

Amphitheater for guest activities including fireside music three days a week during the summer.  In winter look at events in our News page on every other weekend.

Board games, ping pong, darts, guitars, horseshoes, and foosball on property for old fashioned entertainment.

Storage lockers in dorms, bring your own small lock or get one at the shop.

Amtrak and Yosemite Area Regional Transit (YARTS) shuttle bus stop at the end of our driveway.  15 % off anything if you arrive in public transit or bicycle.

Bag Storage at Reception when you need it.

Bodie meeting room for indoor meetings, events, weddings, etc.  The Amphtheater, Ridgetop, Summer Cafe Deck and Yoga Room are all good spots for groups activities!